Hydromassage coming to Dynamic locations December 2019! If you have the Premium level membership or above you will now have access to our "Recovery Zones" or "Relaxation Stations"!
Most everyone is aware of the benefits that consistent massages have for the mind, body and spirit; although, one incredible massage technique that is often lesser known is the hydrotherapy massage. As you can probably infer, the word hydro implies the use of water and the word therapy implies some kind of healing effect. A new, convenient, and affordable way to receive a hydrotherapy massage is with the state of the art HydroMassage chair, which you can find at many spa/salons, fitness centers, and chiropractic offices around the country.
Listed below are the most common questions one may have regarding the HydroMassage technique, the HydroMassage chair, and what the benefits are of using these chairs:
What is a HydroMassage chair?
The HydroMassage chair is a convenient, dry, full body massage with the use of pressurized water. Simply lie down in the open design bed, fully clothed, and feel the immediate benefits of the traveling jet system, which delivers a body massage. The chair can be easily customized to put pressure exactly where you need it most.
Where can I find one?
Spas, fitness centers, and chiropractic offices all over are incorporating "HydroMassage Zones", a semi private area with multiple chairs for complete relaxation, into their facilities. Check with the local gyms near you to see if HydroMassage chairs are included in a gym membership, if you can pay per use, or if they offer a free trial. Visit the HydroMassage store locator to find a place near you to try!
How much does it cost?
These massage beds are highly affordable way to receive the benefits of massage therapy on a monthly, weekly, or even daily basis. Many fitness centers include the use of the HydroMassage bed in their gym memberships, and many establishments offer the use of the bed for as little as $20 per treatment.
What are the benefits of HydroMassage?
Massage is an ancient form of healing that has been reported to provide numerous benefits ranging from pain reduction and improved circulation, to relief from stress and anxiety. HydroMassage is an affordable and convenient way to incorporate the benefits of frequent massage into your everyday life. The benefits, both tangible and intrinsic, will add value and drastically decrease stress in your life.
Physical
Let's start with the benefits you can see and feel after one use. HydroMassage is an incredible way to warm up the muscles before your fitness training and loosen your muscles after training to prevent soreness from repeated resistance-based motions used in weight training, or participating in high intensity group exercise classes, like Zumba classes. Deep tissue options for the water pressure will relieve tightness and knots in muscles from previous workouts, or simply everyday stresses. Lastly, hydrotherapy is known to deliver enough pressure to the body to release harmful toxins out through the pores.
Holistic and Spiritual
The recuperative and healing properties of hydrotherapy itself (the use of heat and water) have been known to treat injuries and illnesses. By combining the use of hydrotherapy with the use of massage therapy, the beds can deliver deep relaxation, rejuvenation, and sense of well being; as well as decreased stress and tension with each use. In addition, Hydrotherapy has been known to aid in the remedy of anxiety, migraines, digestion, circulation, high blood pressure, flexibility, and more!
In comparison to a hand massage
HydroMassage is a convenient way to get the therapeutic results of a traditional hand massage, without the time constraints. The bed allows you to lay down, fully clothed, and enjoy customized water pressure on areas of your body for as little as 10-12 minutes, if that's all the time you have. If you belong to a fitness center that offers HydroMassage chairs, you can use them every time you work out without having to go out of your way. Also, the chairs are much more cost effective than traditional massages, but offer most of the same benefits for the mind, body, and soul!
Learn More
Visit the HydroMassage website to learn everything there is to know about hydrotherapy massages and ask your certified personal trainer about the benefits of incorporating HydroMassage chairs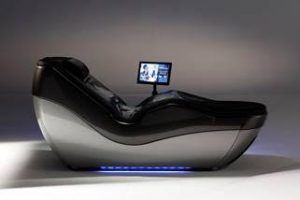 into your daily life.