Dynamic Members,
We want to start off by saying thank you for the outpouring messages and support that we've received in these last few days and weeks. It weighs on me heavily to inform you that we will not re-open our doors on April 4th as originally anticipated. Our priority is the safety of our members, staff and the larger community. While we continue to monitor the situation closely as we are to remain "social distancing" through April 30th. We are hopeful that as a community we can all work together and get through this as quickly and safely as possible. We want you to know that every decision we are making is to ensure we maintain our facilities, so they are disinfected, clean, safe, and ready to open!
We would like to remind you that we are a locally owned Houston-based business, and this crisis is hitting us just as hard as many other small businesses. We understand that many of you may possibly be struggling as well so we are happy to work with you as we're all in this together!
Now more than ever, we are calling on the support of our incredible DYNAMIC Members to stick with us and help us weather the storm so we can continue to operate and re-open as soon as possible. Just as we've found ways to reach our communities during other circumstances, we are looking for ways to serve and strengthen our greater Dynamic Fitness Family.
Here is the option we want to present on rewarding you for your support and loyalty:
If you do not freeze and continue your billing through April, you will receive 120 days of Dynamic Fit Level Access when we reopen!
ALL Club Access
Unlimited Tanning
Les Mills Branded Classes
Everyday VIP Guest Privileges
Kid Zone Access
Unlimited Hydro-Massage
Monthly Inbody Scans
Unlimited D-Fit Team Training!
We completely understand if you do not wish to pay while we are closed, but we appreciate you sticking with us and we are willing to work with you! ALL Personal Training Billing has been frozen starting April 1 until we reopen. Please contact [email protected] so we can better service your account.
While we are temporarily closed, we want to continue to provide you with the best service and value possible. All members that continue their active membership during this challenging time, we are offering you:
Les Mills On-Demand Home Virtual Workouts. We are now offering over 95+ virtual workouts that you can do at home.  From Yoga, Kickboxing, Cycle, Body Pump, and even family workouts we have it all. Just download the Dynamic Fitness App and click the tile "Les Mills At-Home Workouts"!
Myzone. Providing you with every bit of technology on our end to keep you motivated and active. There are the features of "Zone Match" that can challenge you on a scripted cardio regime, helping you accomplish an effective workout as it's all about EFFORT! This is also an instrument for our members to stay competitive and for our fitness teams to monitor our client's activity.
Workout Tips. Team members are more than stoked to provide our members with as much content and education. Regardless of the scenario, it takes 21 days to create a good or bad habit.  Our goal is to ensure you stay as focused as possible on your health within this timeframe.
Virtual Group Fit Classes. We will be scheduling each week's group fit workouts that you can follow with us on social media to stay engaged and connected!
Dynamic Blogs. Another form of education from boosting immune systems, positive impacts from creating a healthy lifestyle, to healthy recipes.  Our goal is to create healthy content to provide a positive impact! Knowledge is power! https://thedynamicfitness.com/blog/
Referral Incentives: Right now, if you know anyone who wants to take advantage of our "active member benefits" we are running "Don't Pay Till May 31st!" which you will receive $10 Amazon Gift Card for each person you refer that joins! https://thedynamicfitness.com/join-now/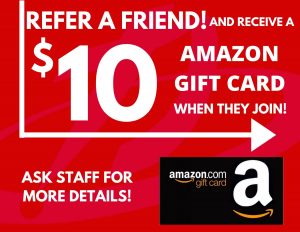 I believe a person's character is not judged after they celebrate a victory, but what they do when their back is against the wall. I stand 100% committed to our loyal Dynamic members and employees to see us through VICTORIOUSLY during these trying times!
Stay healthy mentally and physically, spend time with family, and stay safe! We will come out of this storm Houston as we've always had before… Better! Stronger! United! #Houstonstrong!
Sincerely,
Jared Williams/CEO